NEW! Find me on Flickr for some of my favourite photos.


[posted July 7, 2006]

Why walk Melbourne's tram network?
Well, as my profile says, I was bored with my usual walking circuits and itching to explore more of this fabulous city. It's so easy to get stuck in a routine: work, home, usual shopping/entertainment areas and rarely venturing from these oft-travelled routes.
I know people who drive to popular walking venues – namely Albert Park Lake and The Tan around the Royal Botanic Gardens – but that sort of defeats the purpose. And as for treadmills … urgh! Unless it's being used as a warm-up for further exercise at the gym, a treadmill can feel like the road to nowhere. But when you go for a walk you can look back at the distance covered and feel a great sense of accomplishment.
Walking is not just about exercise, it's also about getting out in the fresh air to discover new sights and sounds (and occasionally smells).


Unfortunately my "accidental walks" have resulted in some frustrating moments. For example: strolling along part of the Yarra walking/bike track I found after a few hours that I was tired and wanted to go home. It was getting cold and dark but I had absolutely no idea where I was because I had left the trusty Melway street directory behind – and I certainly didn't fancy back-tracking to my starting point. Luckily a pair of local joggers pointed me in the right direction to the nearest public transport, but it certainly took the gloss off the adventure.
Hence, tramwalking. Exhausted? Bored? Just keep walking to the nearest tram stop and hop onboard.
I've already racked up quite a few hours on several different tram routes, so here are a few handy hints if you want to try tramwalking yourself.
EQUIPMENT
Nothing out of the ordinary, just clothes that you feel comfortable walking in – daggy tracksuit if you're John Howard on a visit down south – and good shoes and padded athletic socks. I can't emphasise this enough. Go to your local shoe/sports store and get fitted for running (yes, running) shoes that fit you properly, have good support and almost make you want to hit the road. Don't be stingy because they will get a lot of wear and your feet will thank you.
I also usually carry a backpack with water, book (for longer tram rides), maps/notes on places of interest (see "further information", below), fold-up umbrella (most of my initial walking will be in winter/spring) and one of those compact purse-size shopping bags available from Australia Post shops and other places … you never know what interesting shops you will come across and want to make a few purchases. Sunglasses/hat/sunscreen will probably be added when the weather gets warmer. If you start walking in the warmer months, it's still a good idea to carry a jumper/jacket etc because this is Melbourne and "four seasons in one day" wasn't coined for nothing.
WHERE TO GO
There are 25 tram routes in Melbourne covering about 250km, including the City Circle, so I decided to start from the outside and work my way in. Simply put, I pick a tram route, travel to the end of it, and start walking back into the city for a certain time (30 mins, 1 hour, 2 hours etc). Alternatively, you could use a pedometer and decide on the number of steps, or consult your Melway and walk a certain number of grid squares (eg map 58, 5 squares along Dandenong Rd will take you from Wattletree Rd to Chapel St).
When you have walked the nominated time/distance, take note of the stop number and hop back on the tram for the return journey. Then you can go back at a later date and pick up where you left off.
I find this is the best method – especially for unexplored tram routes - because it gives you a good chance to see exactly where you're going and to suss out any areas that seem dodgy (none so far), the topography (there are a few decent hills, especially in the eastern suburbs) or simply uninteresting. If you don't like where you are at the terminus, just stay on the tram until you're back in your comfort zone. And don't worry if the tram driver looks at you oddly while they're shunting … I think they're becoming used to people like me!
One last thing: travelling into the city from the terminus prevents you from doubling back on yourself or developing a "arewethereyet?arewethereyet?arewethereyet?" mindset on the longer tram routes. If I had walked outbound on the No 75 to Vermont South – yes, the mother of all tram routes – I doubt whether I would have got past Hartwell.
METCARD TICKETS

If you travel on the trams and get pinged by the inspectors for not having a valid ticket, don't come whinging to me. I ALWAYS have a valid ticket because a) I believe in the principle that if you use something you should pay for it, and; b) I don't want to be fined. (However, if I get on the tram and the ticket machine is out of order, well that's Yarra Trams' problem.) Oh, and if you think our fares are expensive, try travelling by public transport in Sydney.
Right, got that off my chest, so here are a few tips to pass on. These are specifically for people who don't normally travel by tram or public transport in general.
Where to buy a ticket: The tram ticket machines, unlike those at train stations, are coin only and do NOT take notes/credit cards/EFTPOS cards. Either have enough coins on you, or buy your ticket from a Metcard agent such as a newsagent/7-Eleven/Metshop. And no, I will not repeat that ridiculous ad campaign that was inflicted upon us during the Commonwealth Games.
How to get three hours out of a two-hour ticket: When you buy a ticket from the machine, or validate a pre-purchased ticket, the computer registers up to the NEXT hour and then gives you two hours from that time. Eg: buy/validate a ticket at 1.57pm, the computer registers 2pm and then validates you until 4pm. However, if you buy/validate your ticket three minutes later at 2pm, the computer registers 3pm (the next hour) and validates you until 5pm. And legally speaking, I would advise you to actually time your journey, rather than hang around the ticket or validating machine for any length of time – you never know who will get on at the next stop.
How to turn a pre-paid 10-trip ticket into a discounted all-day ticket: A colleague gave me this tip - I tried it and it works a treat. After you have used your ticket once that day (eg: in the morning), it will automatically be upgraded to a 2am expiry when you validate for a second two-hour session. Mind you, it's not like Metcard is missing out: a 10-trip zone 1 full-fare ticket is $26.70, the same price as a 5-trip all-day pack.
Sunday Saver: $2.50 all day all zones all trams/trains/buses is undoubtedly the best value ticket available on the metropolitan public transport system. It's also great if you don't want to spring for the more expensive zone 1-2 tickets for the three trams routes that extend into zone 2 – No 109 to Box Hill, 86 to Bundoora and 75 to Vermont South. Alas, the Sunday Saver tickets are not available from ticket machines (tram or train), but are available from the usual retail agents and the ticket office at manned train stations.
FURTHER INFORMATION
http://www.metlinkmelbourne.com.au/metcard/
The Metcard website has information on the types of tickets available, prices etc and you can even buy your tickets online. It also has tourism and travel information for the rest of Victoria.
http://www.yarratrams.com.au/homepage.jsp?xcid=1
The Yarra Trams website can answer most questions you may have about the tram system. At the start of my tram walking expedition I printed out the individual tram routes, attractions by routes and full tram network map (under the Timetables & Tickets link on the left of the homepage). Before each walk I take the relevant routes/attractions information so I don't miss anything, and when I get home I dutifully highlight the distance covered on the network map. Yes, yes – I know it sounds a tad daggy, but it's very satisfying to see the network being slowly conquered BY FOOT!
http://www.100yearstrams.com.au
Another site established by Yarra Trams to celebrate 100 years of electrified tram service in Melbourne (horse-drawn services started in the 1870s, not long after San Francisco introduced its cable cars). There are lots of pics and info – but I'm sure the tramspotters have already discovered it.
THE TRAM "ROLLER"

Passengers may have noticed that some of the newer trams have a wheelchair button for disabled passengers to gain access.
Some superstops with raised platforms have been built on route 109 (Port Melbourne to Box Hill via Collins St) to make the Citadis class trams (low-floor) accessible to wheelchair passengers. However, I suggest you explore the route by tram first as there are some fairly impressive hills along Whitehorse/Cotham roads that could really test your brakes on the downhill runs and stamina uphill.
As for the Combino class trams (also low-floor) that travel along St Kilda Rd, I haven't seen the disabled access in action, so I can't tell you how it works. Hmmm, perhaps I'll just ask a tram driver.
Check the Yarra Trams website for more information.
OBSERVATIONS

As for my throw-away line above about tramspotters: Yes, I know you are out there, because I've found a few websites and chat rooms while trawling the internet. If that's what you like, then good luck you. It gives you an interest (but like train/planespotting it's totally unfathomable to most people), it's harmless and most importantly, gets you out and about and not sitting on your bum in front of the TV.
I, like you dear tramspotter, love our trams. In recent years the system has become faster, more reliable, more frequent and more patronised by the public. However, I really don't give a toss about what make/model/serial number of tram I catch. I just want to get from point A to point B in relative comfort and as quickly as possible.
Oh, and if anyone from Yarra Trams is reading, here are a few suggestions:

1) Ditch the Z-class trams as soon as possible. These were the first new trams introduced in the 1970s to replace/update the classic W-class trams. While they still seem reliable and are relatively comfortable, they are hell in summer – and I mean that literally. It is outrageous that it would actually be HOTTER inside a tram on a 30+C day than outside, even with the fans blowing a gale. More than a few times last summer I jumped on a Z-class when it was about 35C, then hopped off three stops later because I couldn't stand the mobile sauna with all those other sweaty bods and found it more comfortable to walk 30 mins than be trapped in the tram for 10 mins.
2) Send the person who introduced the anchor-shaped hand straps back to design school. The straps are hard to hang on to, dangerous when the tram lurches and not a patch on the traditional loop shape. Obviously, that person travelled by car.

3) Refurbish the Citadis class trams (route 109) to get rid of those ridiculous bum rests (see below) in the centre section. For those who aren't familiar with them, they are moulded plastic rests along the outer edges of the tram for passengers to prop on in a semi-standing position instead of sitting/standing normally. A few years ago I met a man who was implemental in the decision to import these French-made trams to Melbourne. He explained that they were popular in Europe because they could carry more passengers. He also said people the relevant European cities didn't expect a seat because on average passengers were only travelling 15 minutes or less and that the tram routes were relatively short. I then pointed that Melbourne passengers tended to travel a lot longer/farther than Europeans and that our transport system covers a greater distance, and takes longer, than your average European city because of the Melbourne sprawl. Then, he finally admitted that he travelled by car. Le sigh.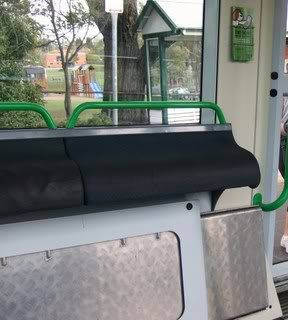 4) The new Combino trams (St Kilda Rd routes) are quite comfortable and have efficient climate control, however drivers should accelerate/brake more gently as standing passengers tend to get flung around by the sudden movements. You can tell regular travellers on these trams because they make sure they have a firm grip before take-off.
5) Pleeease bring back the green and gold livery: it's traditional, very Melbourne and makes the trams stand out. As for the grey trams, they almost become invisible on dull days as they blend into the road in the background.
PHILOSOPHY

Tram walking is a fun way to exercise, but I'm certainly not obsessive about it. If I can only fit in two or three 30-minute strolls one week, that's fine. I'm just as likely to tackle a few challenging 90-minute walks the next.
My posts will be broken down by tram routes, and where they overlap they will be combined. St Kilda Rd and the CBD will be treated separately because they host so many different routes.
As for the times posted, I tend to walk at a fairly brisk pace but not quite power walking. However, when I come to an interesting shopping strip, I'm quite happy to turn off the stopwatch and have a good look around because tramwalking is also about exploring and seeing new things.
Quite frankly, I can't stand mall-style shopping centres because they all seem the same. Southland, Eastland, Highpoint etc are great if you are doing regular shopping and know what you want, but there are no surprises. On the other hand, your average suburban shopping strip – or not-so-average in the case of Chapel St, for example – individuality is able to thrive and plays hosts to hidden gems waiting to be discovered.
See you on a (tram) track somewhere,
Walker
PS: I think I should make it clear right from the start that I do NOT work for Yarra Trams or Metcard or the Victorian Government or anyone affiliated with those three bodies; nor am I doing this for financial remuneration. I'm just doing this because I'm having fun and I want to encourage others to do so.




[posted July 14, 2006]

tram "roller" update

As mentioned in my previous introduction post, I said I would investigate the Combino class trams (low-floor) that travel along St Kilda Rd and have disabled-access buttons on the outside of the doors and in the centre section with fold-up seats.

Well, it's good news for people with some mobility - walking frame, crutches etc - because there is only a low step to navigate instead of three high ones on the older trams.

As for wheelchair passengers, you're out of luck - despite the buttons featuring a wheelchair.

Yesterday I asked a tram driver how the disabled access worked. He said that yes, these trams were fitted with ramp/lifting type device to load wheelchairs on to trams, but no, they were NOT allowed to use them.

Eh?

Apparently the problem is that the ramp/lift extends too far and would go out into the traffic and hinder cars on the road. Fine. Maybe that reasoning is acceptable at trams stops where you have to walk across the road (and hope car drivers remember their road rules that they have to give way to tram passengers), but this would not really apply to some roads where the tram runs in a separate area from cars and there is ample space. I'm thinking nearly all the stops along St Kilda Rd from St Kilda junction south to Carlisle St, some of the termini, and possible a few others.

It's all very well to have the equipment, but bloody useless if you can't use it.

See you around

Walker