Elizabeth St - pt I

No 19: North Coburg to city
No 59: Airport West to city
No 57: West Maribyrnong to city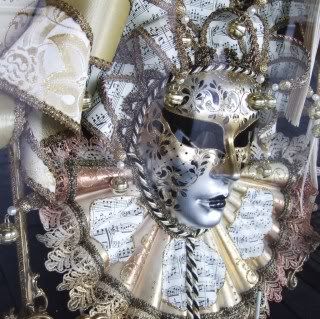 from Pelham St to Flinders St (terminus) - stops 9-1 – 25 min (1.93km)
Google Earth: 37 48'07.23"S, 144 57'27.10"E to 37 49'04.79"S, 144 57'53.73"E
Google Maps: start and finish

Elizabeth St is a bit of an odd mixture.

At the northern end it's commercial showrooms and other businesses, but not exactly the sort of area that attracts visitors keen on serious retail therapy – although the Queen Victoria Market on the Victoria St corner is an exception to the rule.

Further south, after La Trobe St, more traditional shopping kicks in, including the GPO development on the intersection with the Bourke St Mall. This walk ends at the western entrance to Flinders St station.

Elizabeth St is also where you can go cruising for motorised transport of the two or four-wheel variety.

And before I forget, this post marks 48 hours on the road exploring Melbourne's tram network by foot.

(Note: Photos were taken over several different days over the months on two different cameras, so light/tree foliage etc may vary.)





[route Nos 59 and 19 only]

Pelham St to La Trobe St - stops 9-5 – 13min (0.98 km)

Down to Victoria St, this section of Elizabeth St is mainly made up of older one and two-storey buildings with businesses dealing in auto parts, tyres, archery equipment, plumbing supplies, camping and outdoor goods, marine supplies and several car yards mainly on the western (outbound) side.

Two buildings worth noting along here are #660 (right) and #670, about halfway between Pelham and Queensberry sts on the inbound side. There's not much to look at the moment ...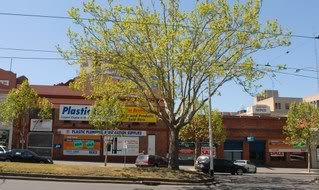 ... but there are plans to redevelop this 1600 sq m site into an 11-storey complex of between 120 and 160 units. And they won't be swish apartments for the well-heeled, rather the accommodation is being built by Yarra Community Housing in conjunction with the State Government – and constructed at a heavy discount by Grollo – for the benefit of low-income and homeless people. Residents will also have 24-hour access to drug, alcohol, health and employment services – and I reckon it's a mighty fine idea.
Once they get settled in, the new residents will probably be regular visitors to Queen Victoria Market on the south-west corner of Victoria St.
[start route No 57]
I briefly touched on the market with the report for the No 55 tram route (which travels along the Peel St/western boundary) and the No 57 (Victoria St/northern boundary) and this time I thought it was time to have a better look around.
Some brief facts and figures: the market is open five days a week (closed Mondays, Wednesdays and some public holidays); it covers 7 hectares (about 17 acres); opened for business 130 years ago; and these days has almost 1000 traders who (according to the official website) served more than 9.5 million visitors last year ... I guess that's a lot of repeat business, considering the population of Melbourne is about 3.5 million and Victoria 5 million. It was also the site of Melbourne's first general cemetery, but that closed way back in 1867. See below for links for a more detailed history of the market.
First up is probably the most well-known exterior shot the market – the meat, chicken and seafood section right on the corner. The Meat Hall was built in 1868 and underwent a major 10-stage refurbishment between 1995 and 2006. As you can see, the building is soon to also get a fresh lick of paint ... it's not normally three-toned, like a tub of neapolitan ice-cream: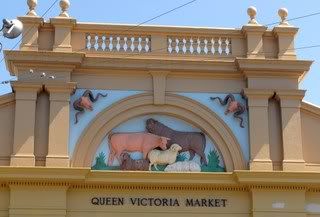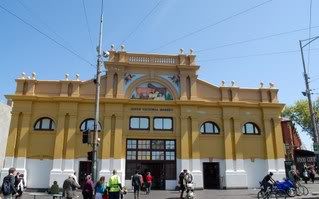 On the southern edge of the Meat Hall, and down a short alley, is the Deli Hall (which can also be reached through the Meat Hall). This is one of my gripes about QVM because it doesn't have a main entrance, as such. I don't mind entering the Deli Hall (c1927) from the meat section or wandering down the alley, but timid vegetarians may find it a bit confronting. That said, the Deli Hall is home to about 30 retailers (I can recommend the handmade pasta shop), and each business has its own little shopfront inside the main hall.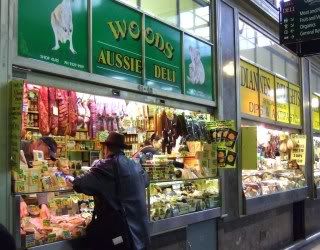 On the other side of the alley is a row of shops (c1884) facing Elizabeth St, ranging from cafes and other food providores to a gift shop with an impressive display of Venetian carnevale masks. These are beautiful works of art (see the pictures in the introduction, above, and below), but their price tag almost puts them in the four-figure category ... think I'll give 'em a miss.
And we can't forget the outdoor section of the market (best-accessed via Victoria or Peel sts) where hundreds of traders sell not only fruit and veg, but also candles, live chooks, cheap clothing and almost everything in between. I really like this photo ...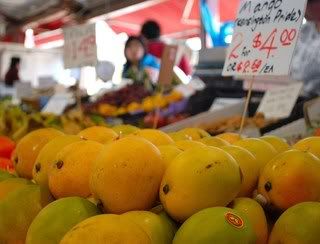 ... because it demonstrates what I love about this time of year. I took this pic about three weeks ago, but on a visit to the market this week I heard the cries "Mangoes, one doll-ar-AAR". As they say in the classics, "nom, yom, yum" ... and I predict BOXES of this delicious fruit will be processed in my kitchen over the coming months.
Later this month the annual Suzuki Night Market begins its 11th season. It's a feast of food, wine and entertainment, so get along one Wednesday evening this summer.
After the market Elizabeth St is populated by backpackers' hostels, convenience shops and take-away food joints, as well as other businesses.
One building of note is #365-393, on the north-west corner of La Trobe St. The impressive eight-storey office building was constructed in the 1920s for the now-defunct Argus newspaper, which published from 1846 to 1957. The building itself had a chequered history under various owners after the newspaper closed, however it's about to get a new lease of life after a major redevelopment as a city campus (postgraduate legal and business courses) for La Trobe University .... hence the scaffolding:
[At La Trobe St you can pick three different tram routes: the free City Circle; the No 30 (west to Spencer St, peak, to NewQuay Docklands, interpeak; east to St Vincents Plaza); the No 24 (west to Spencer St; east to North Balwyn).]

Further reading/information:

http://www.housing.vic.gov.au/projects-and-initiatives/supportive-housing-facility (#660 – apartment development)

http://news.theage.com.au/national/melbourne-gets-50m-in-homeless-housing-20080424-28aw.html (#660 – apartment development)

http://www.dhs.vic.gov.au/humanservicesnews/may08/homeless.htm (#660 – apartment development)

http://www.fastthinking.com.au/site/page.cfm?u=289&c=1773 (#660 – apartment development)

http://www.qvm.com.au/home.php (Queen Victoria Market)

http://www.heritage.gov.au/cgi-bin/ahpi/record.pl?VICH734 (Queen Victoria Market)

http://www.environment.gov.au/cgi-bin/ahdb/search.pl?mode=place_detail;place_id=15040 (Queen Victoria Market)

http://www.environment.gov.au/cgi-bin/ahdb/search.pl?mode=place_detail;place_id=5336 (#365 ex-Argus building)

http://www.walkingmelbourne.com/building426_argus-building.html (#365 ex-Argus building)

http://en.wikipedia.org/wiki/Melbourne_Argus (#365 ex-Argus building)

http://www.theage.com.au/articles/2004/02/04/1075853937059.html (#365 ex-Argus building)

http://ndpbeta.nla.gov.au/ndp/del/title/13 (Argus newspaper)

.