Elizabeth St - pt II

(posted 28/11/08)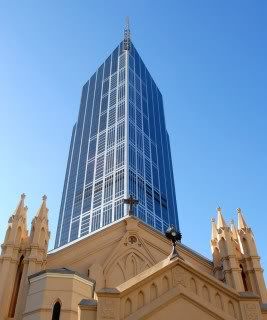 La Trobe St to Flinders St - stops 5-1 - 12min (0.95 km)

La Trobe St to Lonsdale St
In my previous post, I said Elizabeth St was the place to come if you were after motorcycles.

And this is the block to shop for motorised two-wheel transport ranging from nifty little Vespas for zipping around town to enormous touring Harley-Davidsons with seats that look as comfy as the most expensive armchair, CB radio and four-speaker sound system (complete with intercom for the pillion passenger – who BTW has an elevated seat with a backrest for added comfort). "Head out on the highway" indeed ... but in this case I reckon for these easy ridin' Steppenwolf fans it's more a case of "live to be extremely pampered" than "born to be wild".

The amount I know about motorbikes could be written on the back of a Metcard ticket, but even I slow down while walking along this section of Elizabeth St (on the western/outbound side) to have a look. Motorbikes are sold further north along Elizabeth St, and not every shop along this section is to do with bikes ... but it's pretty close.

The line-up along the footpath is suitably impressive (beware the domino-effect of accidentally knocking just one) ...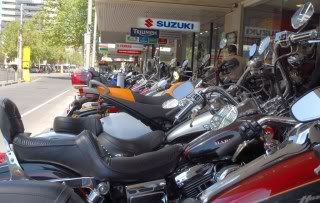 ... especially as most are brand new and very shiny: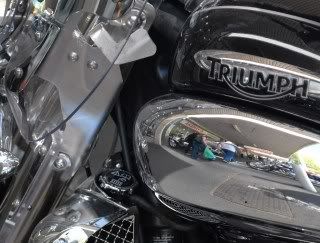 One day you can come across a hirsute leather-clad visitor showing off his pride and joy – this time the speakers were pumping out Black Betty (the 1977 Ram Jam version, not the recent-ish Spiderbait remake) – and the next this odd-looking MP3 three-wheeler from Piaggio.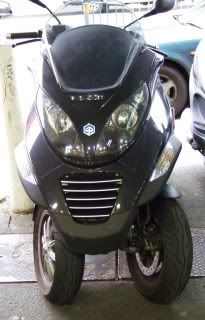 Apparently the reverse-tricycle design makes it extremely stable when it comes to cobblestones, wet conditions and tram tracks – ideal for Melbourne. However, I still reckon it has a face like a grasshopper ... which is probably why they don't come in green.



Closer to Lonsdale St, the bike shops give way to hi-fi, DVD and computer retailers. On the north-west corner is Mitchell House (#352-362), a six-storey art deco office block (c1936) with striking lines: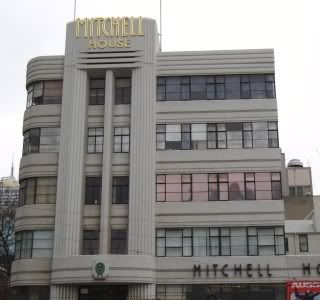 On the other side of the street it's a different story. In the La Trobe St post I briefly touched on the Melbourne Central office building, which at 246m/54 floors is the city's sixth tallest building and the eighth tallest in the country. However, because it's at one of the lowest points of the CBD, from a distance it doesn't have the same towering presence as the skyscrapers high on the hills at either end of Collins St.
I'm not a big fan of bland glass and concrete towers, but one of the crystal-cut Melbourne Central's saving graces is its geometric facade. Depending on the time of day and the atmospheric conditions, the building is sometimes a shiny blue-and-white beacon that the mathematical part of my brain finds very appealing.
And when viewed from around the corner of Elizabeth and Lonsdale sts, Melbourne Central provides a fantastic backdrop to St Francis Catholic Church, shown in the introduction (above) and below:
Technically St Francis is at 344 Lonsdale St, but while I was in the area I thought I'd drop in for a closer look. Although St Francis doesn't have the grand design of a cathedral like St Patrick's, nor beautifully landscaped grounds (in fact it is mainly asphalted car park with a small garden on the Elizabeth St boundary), the church is apparently the busiest in Australia with 43 masses and 10,000 visitors every week.
There are several links below for information about St Francis, so for this post I'll stick with what the blue and white information plaque says:
► St Francis Church: St Francis is the oldest Roman Catholic church in Victoria. Built between 1841 and 1846 on the site of an earlier church, it began as a simple brick Gothic style church designed by architect Samuel Jackson. It has since has many additions, including the cedar ceiling in 1850, a chapel in 1856, sanctuary in 1879 and front porch in 1956.
The bronze National Trust plaque also lists the following information:
Church of St Francis 1841-1845. Architects Samuel Jackson, David Ross.
Ladye Chapel 1855-1858. Architects George & Schneider.
Sanctuary 1978-1879. Architects Reed & Barnes.
Below is the main entry off Lonsdale St, while the photo of the magnolia was taken in July (the tree is now in full summer foliage):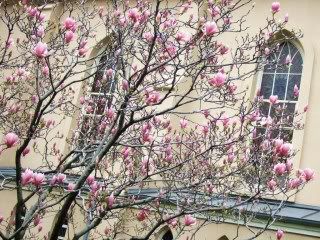 After dodging a couple of beggars loitering outside and taking note of the numerous signs warning visitors about thieves, it was time to explore the interior ... and like Doctor Who's Tardis it seems bigger on the inside.
There are several interesting features ...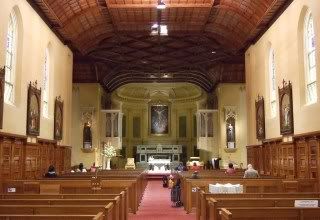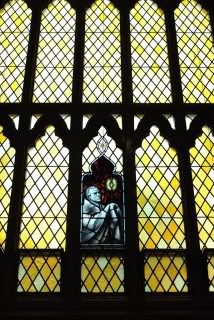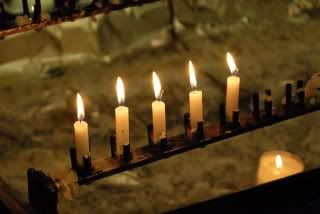 ... including the Ladye Chapel on the Elizabeth St (western) side: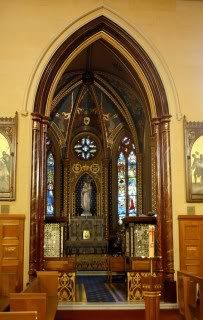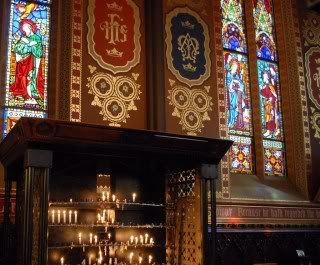 And yes: I do have a thing about ecclesiastical candles and stained glass windows.
Lonsdale St to Bourke St
The outbound (western) side of Elizabeth St hosts another collection of specialist shops, this time camera and video equipment, in three-storey buildings. And now that my interest in photography has been rekindled, it's very hard not to loiter in front of the window displays or sneak inside for a closer look at that new lens or other photographic equipment.
On the other side of the street are shops underneath a modern office block, but it's the block between Little Bourke and Bourke sts that held my interest: the GPO: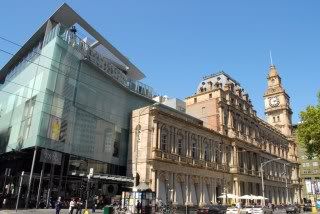 In the Bourke St Mall post I went into detail about this grand Melbourne landmark, which started as the general post office in 1859 and was converted into an upmarket shopping and restaurant precinct about four years ago.
As you can see from the photo above, the building – which suffered a major fire in 2001 – has a modern extension back to Little Bourke St. I have to admit that I had never been inside until I went in to take photos and I must say I'm very impressed with the conversion.
First up is an exterior shot of the Elizabeth St frontage, where you can now grab lunch or an espresso: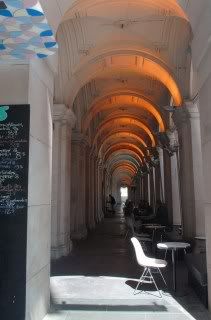 Two levels of boutiques now occupy the former main postal hall, which is illuminated by sunlight flooding in through the glass ceiling. Beautiful, isn't it: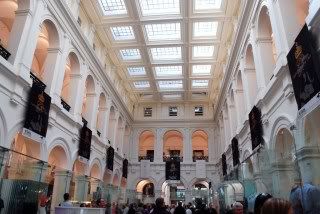 The view, above, is looking north towards Little Bourke St and the new extension from the Bourke St entrance. On the upper level, at the far end, is a champagne bar where I decided to have a late lunch ... and get a little arty: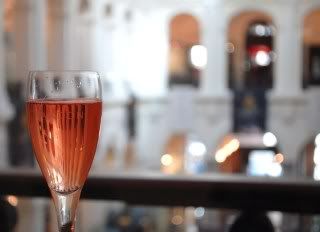 Then I continued my exploration of the upper level to really appreciate the well-executed melding of the old and new. If only all conversions of old buildings could be this good: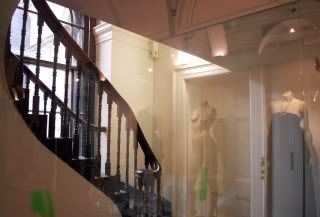 [At Bourke St you can pick up two different tram routes: the No 86 (west to Telstra Dome/Docklands, east/north to Bundoora RMIT); the No 96 (west/south to St Kilda Beach, east/north to East Brunswick).]
part III
More information/further reading:
http://www.walkingmelbourne.com/building379_mitchell-house.html (#352 Mitchell House)
http://www.walkingmelbourne.com/building279_melbourne-central.html (Melbourne Central)
http://en.wikipedia.org/wiki/Tall_buildings_in_Melbourne (Melbourne Central)
http://www.environment.gov.au/cgi-bin/ahdb/search.pl?mode=place_detail;place_id=5051 (St Francis Church, #344 Lonsdale St)
http://www.stfrancismelbourne.org.au/ (St Francis Church, #344 Lonsdale St)
http://en.wikipedia.org/wiki/St_Francis_Catholic_Church_(Melbourne) (St Francis Church, #344 Lonsdale St)
http://www.flickr.com/photos/adonline/400411559/ (St Francis Church, #344 Lonsdale St)
http://www.environment.gov.au/cgi-bin/ahdb/search.pl?mode=place_detail;place_id=5197 (GPO)
http://www.walkingmelbourne.com/building197_general-post-office.html (GPO)
http://www.walkingmelbourne.com/forum/viewtopic.php?f=3&t=138 (GPO – ongoing debate on the redevelopment)
http://www.melbournesgpo.com/# (GPO – corporate)